Building standard and custom cabinets using Pro100 software is a great way to save time and money while creating beautiful, unique pieces of cabinetry. The software makes it easy to create both frameless cabinets and American frame cabinets with ease. You can customize the size, shape, color and material of your cabinetry to suit your specific needs. For those looking for something truly special, you can also use Pro100 to design custom cabinets that are tailor-made for your space. With its intuitive interface, powerful features and detailed 3D models, you can create stunning cabinetry that fits perfectly into any room in your home.
Why Choose Pro100 Software for Custom Cabinetry?

1. Pro100 Software offers powerful yet easy-to-use design software for custom cabinetry. It features a comprehensive 3D modeling system and intuitive drag-and-drop tools to help you visualize your projects with precision in real time.
2. It provides an extensive library of product catalogs, featuring a wide range of kitchen cabinets, bathroom vanities, storage solutions, and more – all of which can be seamlessly integrated into your designs.
3. With Pro100 Software, you can quickly create detailed cut lists and plans that are compatible with industry standard CNC machines and material handling systems – helping streamline the manufacturing process for custom cabinetry projects.
4. The software's advanced rendering technology allows you to present stunning visuals that accurately reflect the finished product – giving clients a realistic preview before production begins. This can also help reduce costly errors or rework down the line due to misunderstandings about design requirements.
5. Finally, Pro100 Software is cost effective and budget friendly compared to other CAD/CAM solutions on the market – making it a great choice for custom cabinet makers who are looking to upgrade their design capabilities without breaking the bank!
2 Door 90 degrees Wall Cabinet
With Pro100 software, building a custom 2 door 90 degree wall has never been easier. This powerful design tool allows you to create a precise and detailed three-dimensional model of your wall, complete with accurate measurements and realistic textures.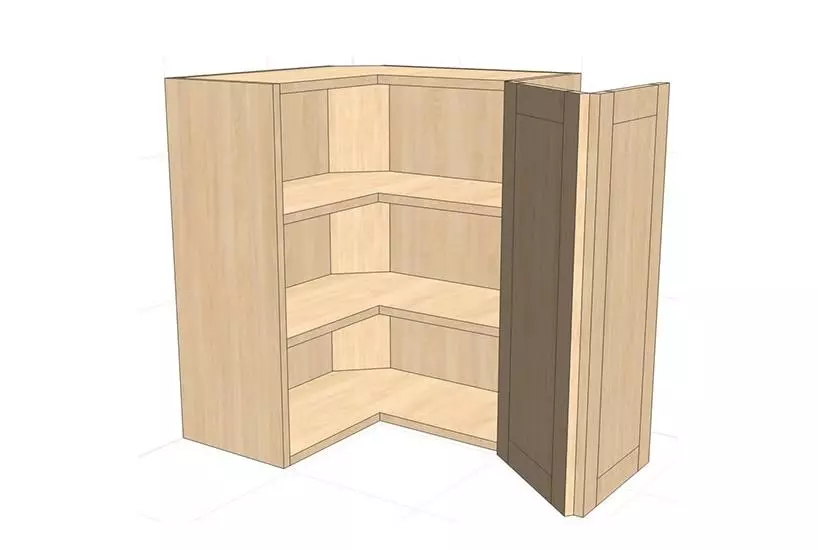 How to Build a 33-inch Base Corner Cabinet
Custom Cabinetry | Cabinet Software
Please visit custom cabinet software page for more detailed information