Pro100 is an excellent 3D program for closet manufacturers and dealers. It is a custom design tool that will help you maximize storage space and organize your closet.
Modular Closet Design
There is no limits with what you can do with Pro100 software. Build custom design closet for just about any space. Please watch the video below.
Closet Design Slideshow
View the slide show below. It presents different design samples to give you a quick overview on some of the end results. You can download the demo now and experience ease of use, 3D rendering, versatility and much more. Design custom closet shelving for your bedrooms, laundry room, pantry and even for garage design and construction.
Frequently Asked Questions:
Is Pro100 web-based? or How can I design my closet online? Unfortunately we do not have online version.
Can I purchase Pro100 closet version? Everyone gets the same copy as long you fall under the described Pro100 industries. The program itself is highly customizable to fit your industry. We help you achieve that.
Design and Organize Storage Space
Build and design the most functional closets for your home or office using the easiest software. Pro100 has design features that ensures easy adding of drawers, doors, laundry baskets, racks, shelves and other closet accessories. If you are an authorized closet dealer, you can integrate pricing, customize discount and sales calculations, display output based on your retail pricing needs and also for your customers.
Pricing can also be easily added on closet accessories and other items such as shoes racks, rods, hinges, drawer slides, knobs, handles or any closet hardware that comes with the standard library. Take a look at the result of choosing the right closet software for your projects. See image below.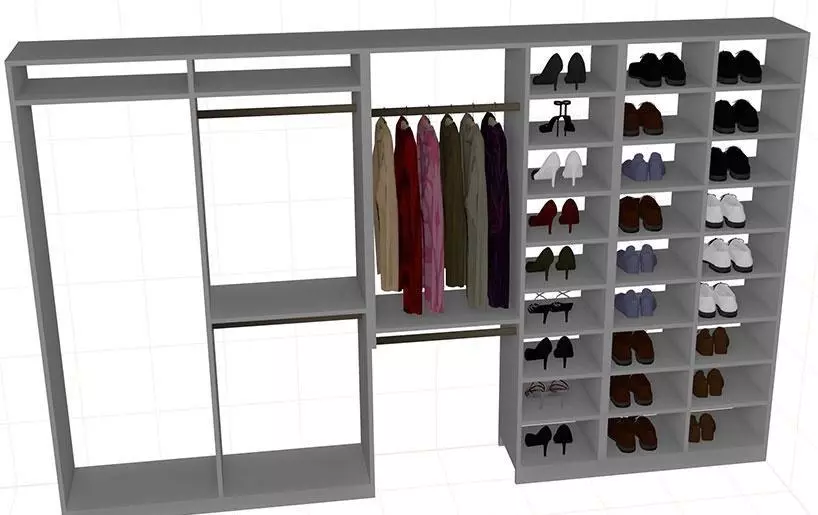 Custom Closet Organizer
Experience total control down to the part level of your custom closets including cabinet shelves, hanging rods, and storage room. Whether you are manufacturing products from a closet factory or small shop, this program will give you an upper hand in so many ways compared to your competitors. Prior design experience is not needed or required, say goodbye to your closet design consultant or your so-called professional closet orgnizer.
The ability to generate reports such as parts, cut lists is made easier, faster and flawless. Price your desigss by the parts or by group object depending on your customer's specifications. Create almost any closet parts or ready-mades from your manufacturer right into your own catalog. This gives your clients a visual aspect of your designs including closet hardware.
Some of the new features includes ON and OFF dimension display, lighting effects, 3D renderings, price integration etcetera. Please note that Pro100 works very well with CNC machine. Give your closet cabinets the best makeover. See Pro100 active users.
Design Samples
The following video demonstrate how to create custom closets
Pro100 is an Excellent 3D Closet Software for:
Wardrobe Closets
Walk-in Closets
Reach-in Closets
Kids Closets
Utility Closet
Line Closet
Murphy Beds/ Day Beds
Anything you can think of within a room.
Custom Closet Systems
This program will fix a lot of broken systems. Shoes piled up in one corner, clothes up high on the shelf requiring a step stool to reach them. All this makes it impossible to utilize the whole space. Whether you are doing a master bedroom closet or designing a craft closet, the options are unlimited. Please read more about Pro100 closet design software and how to create your own closet system. Your clients will like photo realistic images like the ones shown below.
Go ahead and download the demo, it does not expire and therefore feel free to play with it as much as you like. We have put together a small sample of closet catalog for you to download as well.
Photorealism
One area that anybody could and may be should improve is the closet. Using software like Pro100 can greatly eliminate clutter within your bedroom with a short time. This ensures an organized space for your own storage.